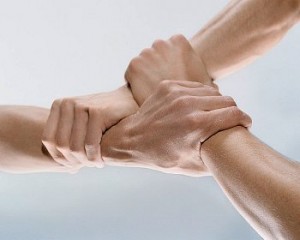 It's rare that one can say that they had a good experience at the dentist, but today I did.  It helped that my appointment was merely to have my teeth cleaned, and that fortunately they weren't exposed to drilling of any sort.  Yet the positive experience can be attributed to more than just that.
Interaction
As is always the case at this office, the interaction among the administrative staff is seamless and impeccable.  Today wasn't the first time that I observed one staff member preparing to provide a memo for another, only to find that it was already provided by yet a third.  It's thoroughly appropos that their area of expertise places a premium on teeth, because they smile quite often.  They couldn't be more supportive of one another and more cordial to their patients.
Confirmation
Many times one has an experience that reinforces something they already knew but perhaps forgotten.  Today I learned once again how our behavior as business people has such an affect on others, both positive and negative.  I was reminded today of how pleasant visits to this office are.
Added Value
This dentist is more expensive than most others.  And although he is extremely skilled at what he does, his skill alone wouldn't be enough for some people to compensate for the price differential.  Couple his skill at dentistry with the great energy that permeates throughout the office, however, and the total experience becomes one that most patients want to repeat.
The Difference
There are many components to running a successful business.  If your business is such that your customers visit you at a storefront, then make no mistake.  For total customer satisfaction, raving fans and repeat business, office camaraderie is a difference maker.
If employees at a dentist's office can make a difference, can they do so at your office space also?
What suggestions do you have to improve your coustomer's experience when they visit you at your workplace?
Expand your mind, increase your business and receive your dose of "The Daily Tonic" everyday.*   It's always brief, informational and thought provoking.
Simply go to the top of this page or the home page of  thedailytonic.com, enter your email in the navigation bar to the right and click "subscribe."  Of course your email address will be  kept private